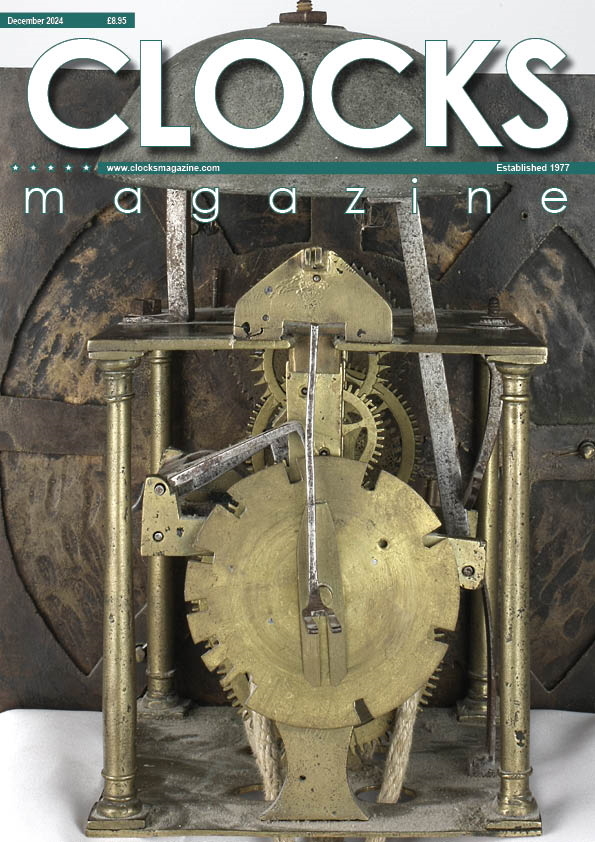 Established in 1977, Clocks is the world's leading independent horological magazine. Every month it features articles on horology, including clock collecting, profiles on clockmakers of the past 300 years, clock repair and restoration, clock making, antiquarian horology, horological news, readers letters and more. All you need to know about clocks in one handy place. And which you can have delivered to your door simply by taking out an annual subscription.

Why not have a look inside the current issue by clicking on the cover photograph (left) or get a sample copy using the 'Sample' tab above? Or read some pages from our limited edition What's It Worth? Price Guide to Clocks 2014 by click on its cover picture (above). Or one of our other best-selling horology guides, including Clock Repair, A Beginner's Guide (now in its THIRD printing).

Alternatively you could have a look at our 'Gifts for Horologists' page by clicking on the 'Gifts' tab above. Or consult our online indexes ('Index' tab below) and maybe even purchase a back issue ('Back ssues' tab above).

Our website includes a selection of useful clock repair articles from previous issues of the magazine ('Articles' tab below). So if you've got a clock needing fixed you may be able to get some pointers there. If you don't know what's wrong with your clock, why not have a look at our horological fault finder ('Other stuff' tab above)? There is also a selection of interesting antiquarian horological articles for clock collectors.

Under the same 'Other stuff' tab you might also want to have a look at our Interactive Glossary of horological terms, a selection of Letters to the Editor from previous issues, or the Editorial from the current issue of Clocks Magazine.